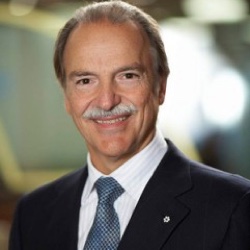 Dr. Pierre Lassonde's visionary leadership and generous philanthropy have had a transformative impact on Mining Engineering at the University of Toronto.
Over the past 20 years, Dr. Lassonde has pledged more than $10 million in philanthropic support to numerous projects, beginning in 1996 with a landmark gift of $4 million that revolutionized the Mineral Engineering Program that now bears his name. Since that time, his support of undergraduate and graduate scholarships, faculty research and industry collaborations, and his investments in the physical spaces in which our programming is housed, have deepened our impact within the academy, industry, government and society.
Read more about Dr. Lassonde's life and career on the Canadian Mining Hall of Fame's website.
"The Lassonde Institute of Mining and the Lassonde Mineral Engineering Program would not be possible without the generous support of philanthropist, businessman and mining industry expert Dr. Pierre Lassonde. Our commitment to educating future generations of industry professionals and pursuing cutting-edge research are a direct reflection of his passion, vision and leadership."
— Professor Brent Sleep
Acting Director, Lassonde Institute of Mining
Chair, Department of Civil Engineering
Lassonde Institute of Mining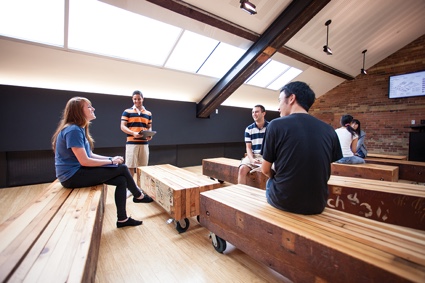 The Lassonde Institute of Mining is an interdisciplinary research institute at the University of Toronto. It was created to be at the forefront of research across a spectrum of mining activities and to train graduate students and professionals in mineral, mining and process engineering. It is an international centre for excellence in mining engineering, encompassing mining, civil, materials and chemical engineers, geophysicists, geologists, geochemists and environmental scientists who undertake research that crosses traditional disciplinary boundaries.
Lassonde Mineral Engineering Program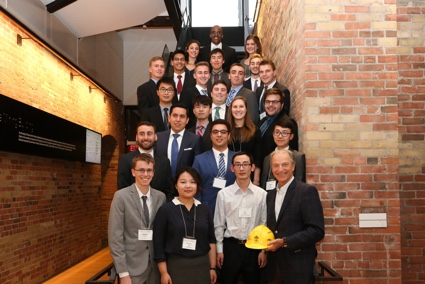 The Lassonde Mineral Engineering (LME) Program was designed to respond to the evolving needs of the mining industry through the education and training of the best undergraduate students from around the world. With faculty members from Materials Science Engineering, Civil Engineering, Chemical Engineering and Earth Sciences, as well as sessional instructors from within the mining industry, LME delivers 27 core technical courses to upper-year students.
"Receiving the Lassonde Scholarship solidified my decision to study Mineral Engineering at U of T. After graduating in 2013, I spent two-and-a-half years working for De Beers Canada, where I had the opportunity to work in mining operations and technical services at remote underground and open pit mines, as well as with the technical group at the head office in Toronto."

Kristin Foster (MinE 1T3)
Lassonde Undergraduate Scholar
Underground Mine Engineer, Newmont Mining Corporation
"Throughout my time in the Lassonde Mineral Engineering Program and since graduating, I have worked in various roles within the mining sector that include exploration, capital markets and a work term in the oil sands. As I reflect on my time at U of T, I am extremely grateful to have received the Lassonde Scholarship and the contribution it made to the start of my career within the mining industry."

Robert Tuerke (MinE 1T0)
Lassonde Undergraduate Scholar
Short-term Scheduler,
Dominion Diamond Corporation
"Receiving a Lassonde Scholarship allowed me to fully focus on professional development during my final years of study, and I was able to dedicate my free time to programs I was interested in. Having my efforts recognized through the Lassonde Scholarship filled me with confidence, allowing me to pursue exactly what I wanted. In the future, I hope to be able to give back and help other students in a similar position."

Henrique Coppini (MinE 1T5)
Lassonde Undergraduate Scholar
Metallurgist, De Beers Group of Companies
Scholarships & Fellowships
The Lassonde Mineral Engineering Program provides more scholarship assistance per undergraduate student, and has one of the highest placement rates and fastest career advancement rates of all undergraduate engineering programs in the Faculty of Applied Science & Engineering. Dr. Lassonde's philanthropic commitment also extends to graduate students through three fellowships awarded annually to outstanding graduate student candidates: the Friends of the Lassonde Institute Graduate Fellowship, Lassonde International Graduate Scholarship in Mining, and the Lassonde Institute Graduate Fellowship in Entrepreneurship and Engineering.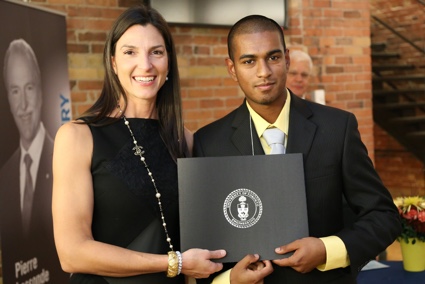 Lassonde Chair in Mining Engineering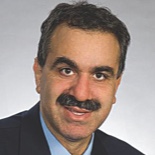 Since 2012, the Pierre Lassonde Chair in Mining Engineering has been held by Professor John Hadjigeorgiou. He succeeded the inaugural chair, Professor William Bawden, who had held the position since 1997. Professor Hadjigeorgiou's teaching, research and consulting expertise are in the areas of rock characterization, slope stability, tunnelling, reinforcement and support, and mine design. A Fellow of the Canadian Institute of Mining and Metallurgy, Professor Hadjigeorgiou is a recipient of the John Franklin Award in Rock Mechanics from the Canadian Geotechnical Society and the Rock Mechanics Award from the Canadian Institute of Mining and Metallurgy.
Claudette Mackay-Lassonde Chair in Mineral Engineering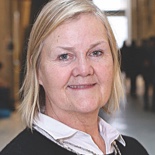 Since January 2016, the Claudette MacKay-Lassonde Chair in Mineral Engineering has been held by Professor Lesley Warren, who succeeded the inaugural chair, Professor John Hadjigeorgiou. An aqueous and microbial geochemist, Professor Warren is a pioneer in the development of integrated approaches to address key questions linked to the roles of genomes and microorganisms in geochemical cycling, with a significant focus on water quality management in mining contexts. She has an internationally recognized track record of resource sector-based integrated geochemical and microbiological investigation, and has partnered with numerous energy and mining industry leaders. She serves on the Canadian Mining Industry Research Organization (CAMIRO) Expert Geochemistry panel and Syncrude Canada's Reclamation and End Pit Lake Science Advisory Boards.
The Lassonde Mining Building & Goldcorp Mining Innovation Suite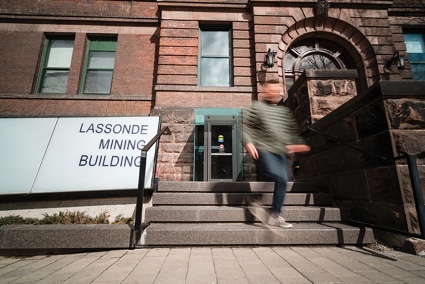 Our Faculty's commitment to sustainability and innovation — a cornerstone of every U of T Engineering student's engineering education and future professional practice — is showcased through the Lassonde Mining Building. The historic structure underwent a series of restorations, renovations and expansions in the past decade thanks to the generosity of Dr. Lassonde, whose leading gift helped us secure further funding from other donors as well as more than $11 million in federal and provincial grants. In the fall of 2010, the Goldcorp Mining Innovation Suite was completed on the building's fourth floor, including 24 workspaces populated by MASc and PhD students working alongside core mineral engineering faculty members in their labs. In 2014, the Goldcorp Suite received a Green Building Award from the Green Building Council for excellence in eco-conscious design and execution. It also holds LEED Gold status. The original Canadian Mining Hall of Fame is located on the ground floor of the Lassonde Mining Building. The hall recognizes the accomplishments of leaders in the Canadian mining industry.